It's been a busy Saturday morning at Jalesnes.  Uncharacteristically, I have left it a bit late to head into the nearest 'big' town, Saumur, to do my market shopping.  Saumur is an easy twenty minutes drive from home.  It is a glorious day here and generally a good idea to be at the market before 8am. I glance at my watch and realise that it's almost 11 as I drive across the famous bridge, the Pont Cessart, with its graceful stone spans. The river reflects the chateau and the town which nestles at its feet.  This is an iconic Loire view. The famous Château de Saumur, along with the houses within the town, was constructed using the local tuffeau stone, a creamy fine grained limestone containing mica.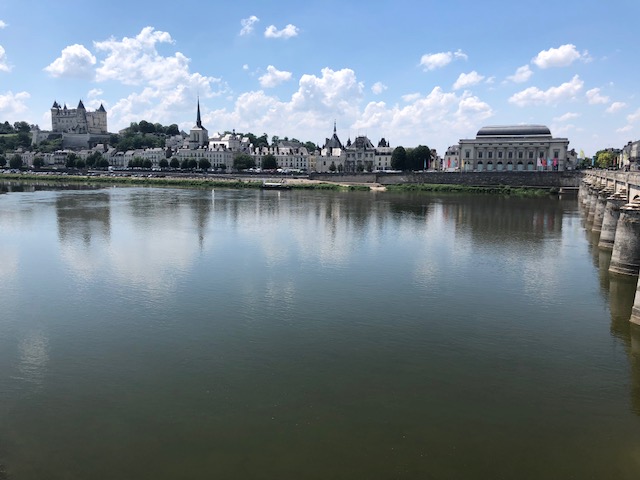 No wonder the buildings reflect pink tones at sunset so beautifully.  I make a mental note to return at sunset for photographs but already know that this is unlikely to happen.  Tuffeau is a stone which lends itself not only to ease of mining and construction, but also to the creation of the famous wine caves, dotted around the region, including those of the Ackerman family, former owners of our château.  Many of the chateaux in the Loire Valley, including our own Château de Jalesnes, are constructed of tuffeau, lending a harmonious look and feel to the splendid architectural landscape.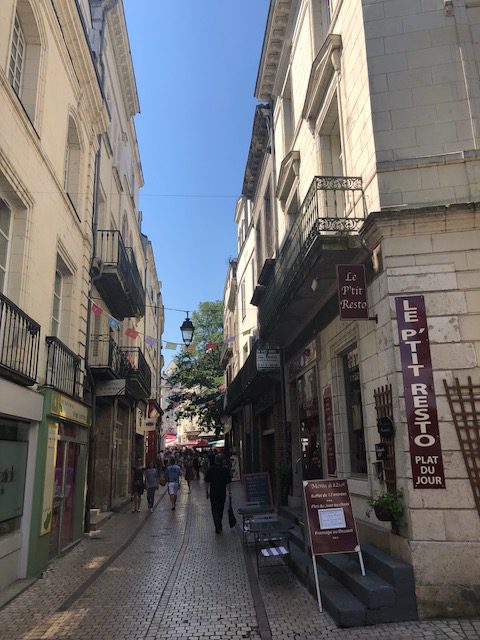 Luck is with me as I find a parking spot immediately, under a lovely shade tree by the riverbank.  I head to the market.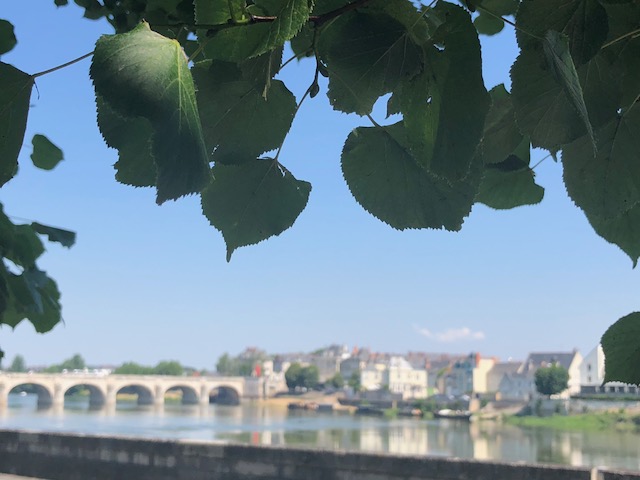 The market is still bustling with shoppers and I realise that I shouldn't have worried that there would be nothing much left.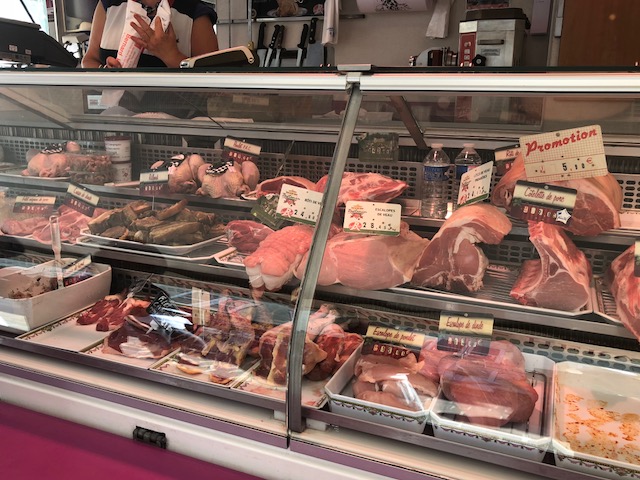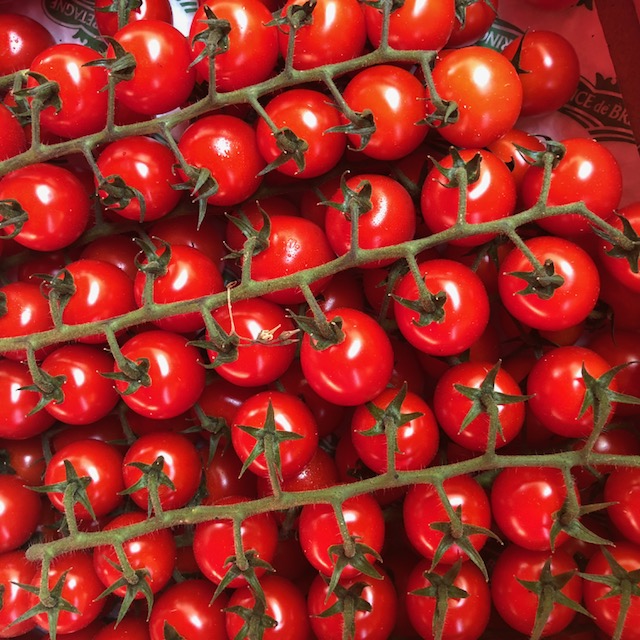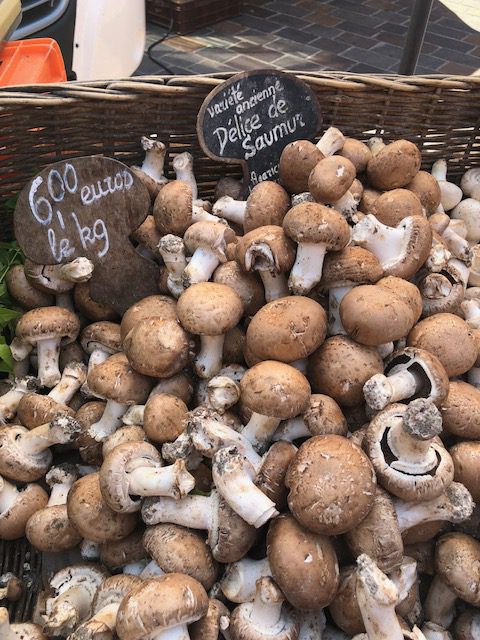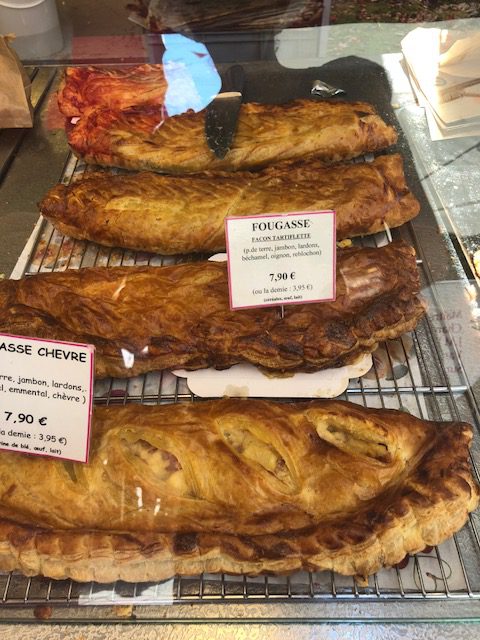 The food market is set in a square, Place St Pierre.  The Château de Saumur which appears overhead like a scene from a fairytale, sets the scene.  The classically elegant old church, Eglise Saint-Pierre, with its restored facade, coupled with the ancient half-timbered buildings surrounding the square, make it one of the loveliest markets to visit.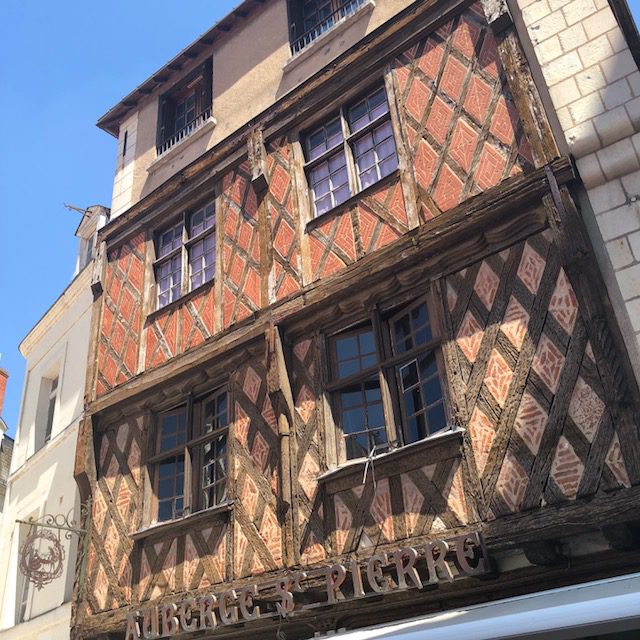 The church itself is worth a visit, even to escape the hustle of the morning market.  The doors are usually open.  It is a peaceful, beautiful space, with a relatively plain interior but with some spectacular stained glass and impressive organ which is often used for recitals.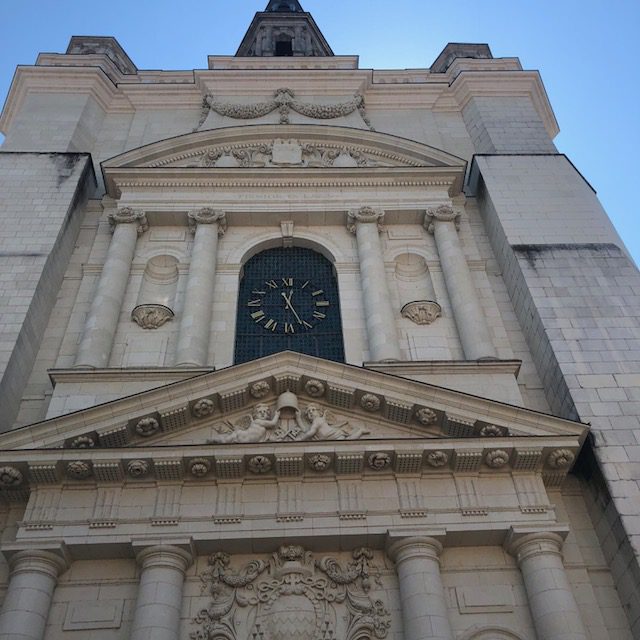 The crème fraîche vendor is pleased to see me.  She knows I have a passion for her product.  People are friendly here and helpful, even when I am struggling to find the words to describe exactly what I am looking for or how much I need.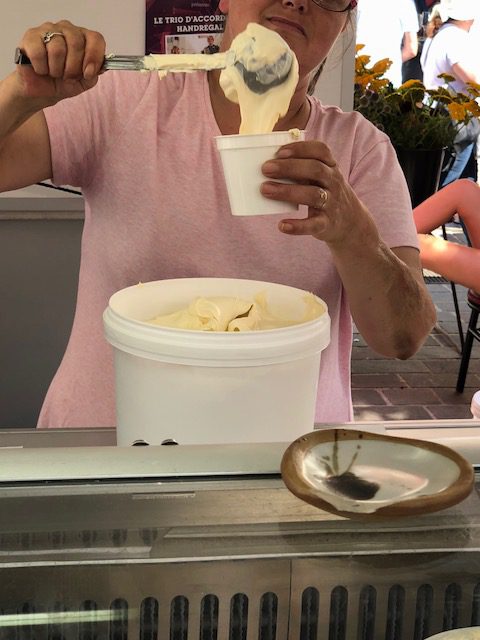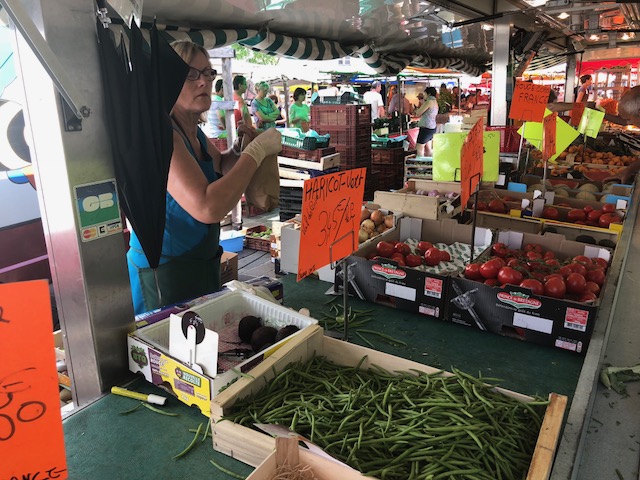 I decide on some new potatoes (pommes de terre nouvelles), some bright green beans (haricots verts) and some lamb shanks (souris d'agneau), along with some apples (pommes) which I intend to make into a pie in the French style (tarte aux pommes).  Time now for a pause-café.  I've earned it.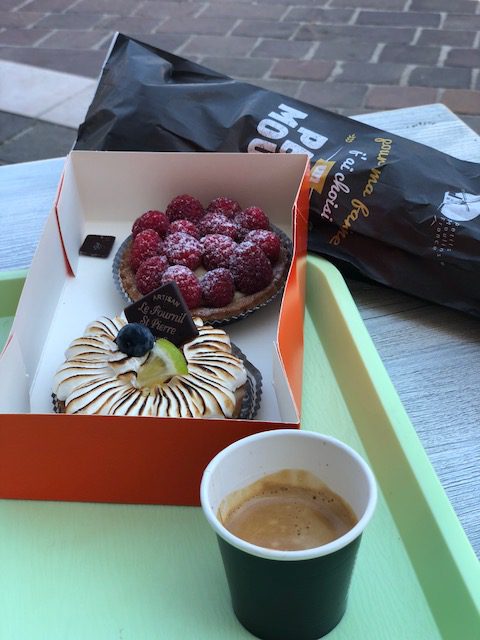 Refreshed, I take a different route back to the car, so that I can enjoy the colorful umbrellas of Saumur which appear as if by magic each summer and provide some much needed dappled shade.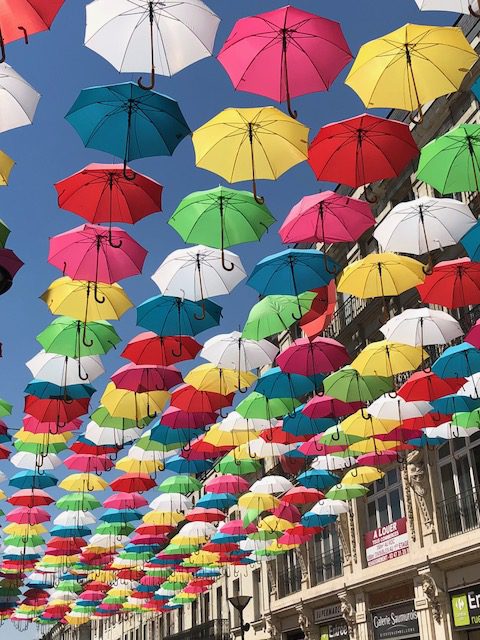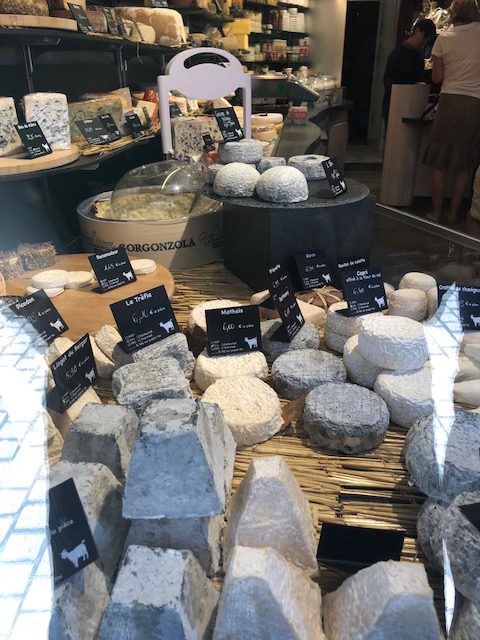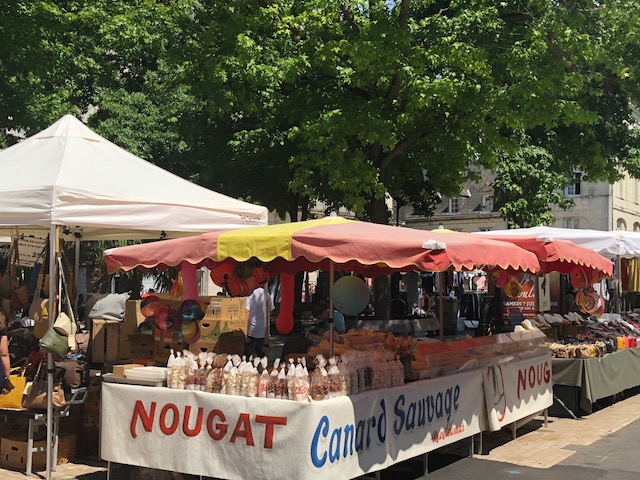 Back at Jalesnes I get to work to prepare the lamb and the apple tart.
Souris d'agneau Jalesnes style (with new potatoes and green beans)
Ingredients
1 quantity of lamb shanks
fresh herbs from the château garden, or dried will do
olive oil
salt (fleur de sel)
two cloves of garlic
lemon juice
water
salt, pepper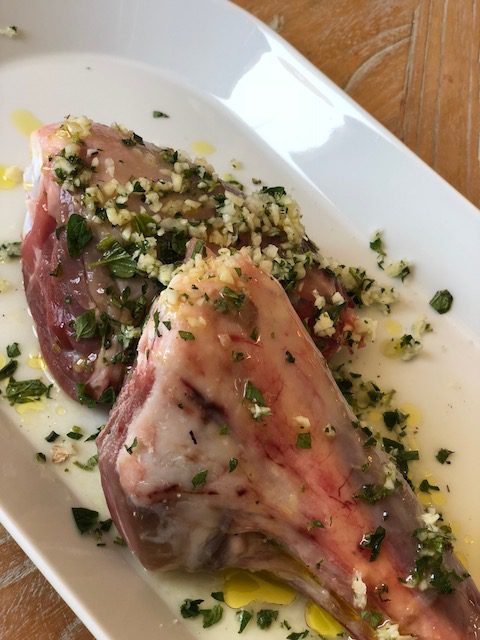 Chop the fresh herbs with the garlic.  Moisten the lamb shanks with some olive oil and rub the herb and garlic mixture into the lamb.  Brown briefly in a non stick pan and then place the lamb shanks into a casserole dish or heavy based saucepan with lid.  Sprinkle the lamb with a little fleur de sel, drizzle over the lemon juice and add about half a cup of water to the pot.  Cover and cook on high briefly before turning down the heat very low and cooking for about two hours.
New potatoes
Wash the potatoes and place in a saucepan of briskly boiling, salted water.  Cook until tender – about ten minutes.  Drain.  Add a small knob of sweet unsalted French butter to the saucepan and put the potatoes back in, along with a handful of chopped herbs.  Shake it about.  Keep warm.
Green beans
Top and tail the beans.  Place in a saucepan of boiling water and cook for about four or five minutes.  Do not overcook.  Drain and refresh briefly under a stream of cool water – a tip from a French friend.  Shake dry.  This keeps the bright green colour of the beans but won't make them cold.
Place all of this on a platter and, to a round of applause, serve the lamb which should be melting and falling off the bone.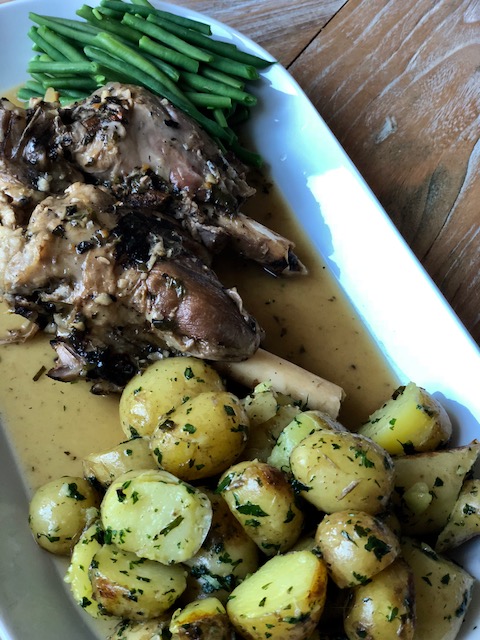 Tarte aux Pommes à la Jalesnes
Ingredients
1 quantity of ready made pastry (pâte brisée from the local supermarket)
4 sweet cooking apples, peeled and very thinly sliced
1 small jar of apple purée or pear purée, no added sugar
Place the pastry over a tart form lined with baking paper – a quiche dish will do
Prick the pastry with a fork
Spread the purée over the pastry
Add the sliced apples on top in a decorative pattern
Sprinkle the top with some light brown sugar
Preheat the oven to 200 degrees celsius.  Place the apple tart in the oven and bake for about thirty minutes or until the pastry is golden brown and the apples nicely coloured.
Serve with crème fraîche and enjoy.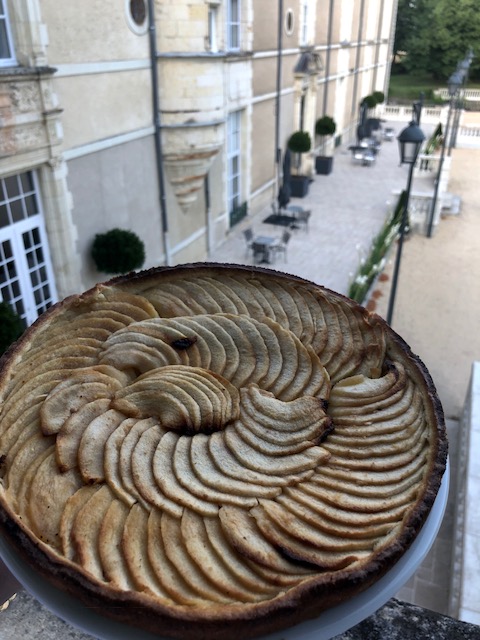 All of our suites here at Jalesnes are equipped with kitchens and appliances of the highest quality.  Guests are welcome to cook their favourite meals.  All cooks are catered for and your kitchen is equipped with everything needed to cook up a storm.  The induction cooktops mean that heat is instantaneous, much the same as gas, and the ovens are state of the art combi-ovens, so even if you are not in the mood to create something from scratch, it is possible to microwave something ready made.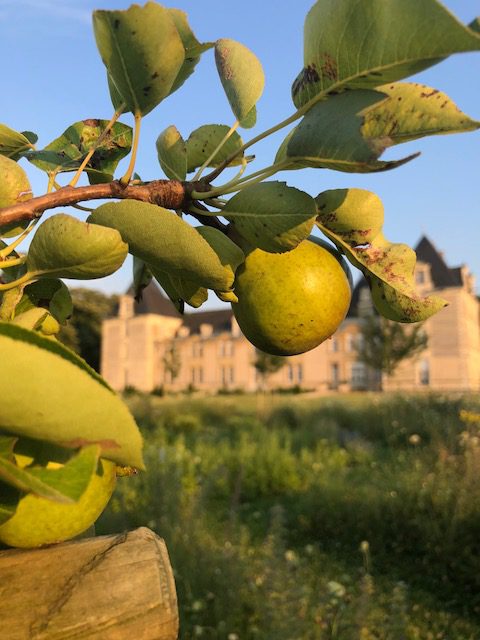 In the château garden, you will find a variety of herbs and flowers which you are encouraged to use.  After all this is our home, your château.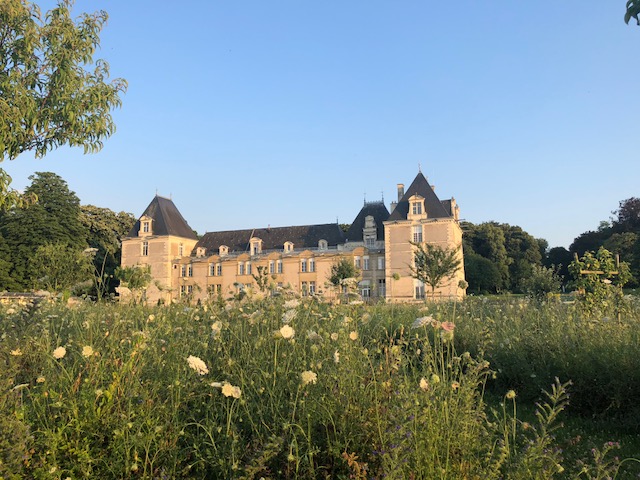 Until next time,
The Chatelaine de Jalesnes
A guide to Saumur Market Tourism